Checklist for Selecting Software Development Vendor
This intuitive checklist will help you choose the right IT software provider for the corporation's specific demands and manage the outsourcing team effectively.
Find Your Right IT Partner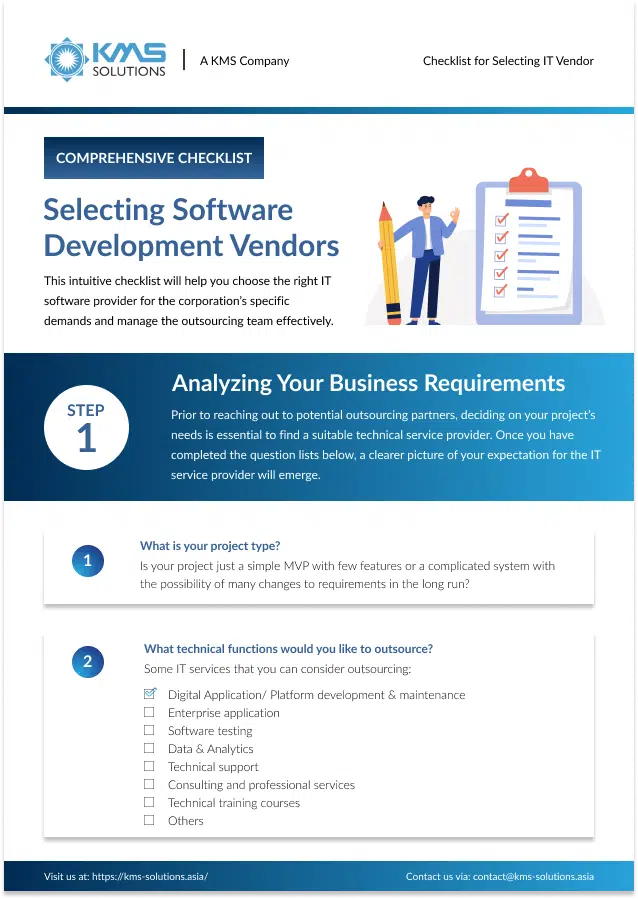 One of the keys to outsourcing success is pre-planning.
In today's world, you have myriad choices when it comes to software outsourcing or Digital Team service. Furthermore, IT service providers also provide flexible pricing and services to meet your different requirements.
Since every vendor seems to proudly showcase their experience, it's getting confusing for you to search for the right software development partner. Thus, in
this checklist, we'll walk you through the entire software vendor selection process to find the most appropriate one for your specific IT requirements.
Step 1: Analyzing Your Business Requirements
Prior to reaching out to potential outsourcing partners, deciding on your project's needs is essential to find a suitable technical service provider. There is a list of 9 questions that you will need to answer to decide on the project's needs. Once you have completed the question list, a clearer picture of your expected IT service provider will emerge.
Step 2: Choosing the Engagement Model
This step requires you to find the appropriate engagement model based on the analyzed project's requirements. There will be some wdiely-used engagement models in software outsourcing that you can consider.
Step 3: Researching and Evaluating Vendors
One of the best practices for defining the right IT service providers is to find as many prospects as possible, then shortlist them for further consideration. You can make a list of 5-10 potential corporations that have particular criteria you're looking for and send them your requirements.
Step 4: Scheduling Demos and Interviews
Once you have filtered out the prospect through the above steps, scheduling demos or interviews is needed. By scheduling interviews, you can determine how the outsourcing partner can serve your expectations and business needs. Here are the question lists that you can raise during the interview
Step 5: Signing Contracts and Onboarding

A thorough onboarding and knowledge transfer process will be needed in this step. Generally, there are three main phases in this process for the IT partner to clearly understand your project. Check if you've conducted the full process.
Trusted to deliver expert IT services by